In the year 1997 the Perth Mint has issued the bullion issue EMU 1997. The maximum mintage of this issue is 5000 pieces, but it is not sure, if they have been minted completely. The issue price of the Perth Mint was 110% of the actual palladium price.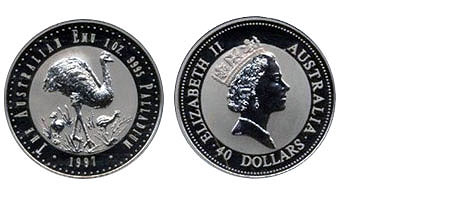 In the year 1997 the Perth Mint has issued the last Emu Palladium coin in proof. The maximum mintage was 2500 pieces, but because of the high palladium price only 769 pieces has been minted. The coin was sold in a black wooden box including certificate of authenticity for AU$425. A maximum of 100 coins has also been issued in the Four Metal Proof Set of 1997.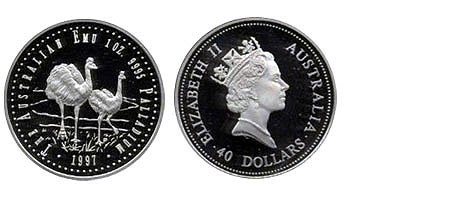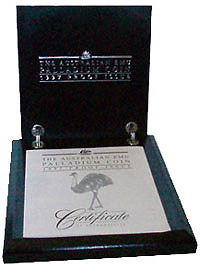 This Four Metal Proof Set has a maximum edition of 100 pieces and it was packed in a wooden box with green coininlay and certificate. The set contains the following 4 coins in proof quality:
| | | | | |
| --- | --- | --- | --- | --- |
| AU$1 | Silver | 1 ounce | Kookaburra | 1997 |
| AU$ 100 | Gold | 1 ounce | Kangaroo | 1997 |
| AU$ 100 | Platinum | 1 ounce | Koala | 1997 |
| AU $ 40 | Palladium | 1 ounce | Emu | 1997 |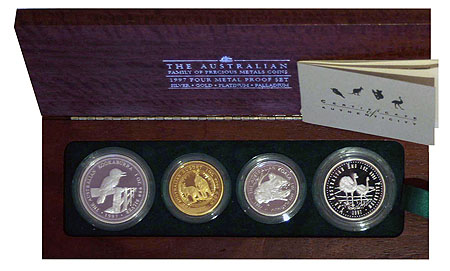 In August of 1997 the Perth Mint has issued a so called Typeset, because they want to offer collectors a noble presentation box for the proof emu coins. This typeset contains a black box for the three issued proof coins and a detailed booklet with information about the complete EMU series. The price without coins was AU$65, the maximal production amount was 750 pieces.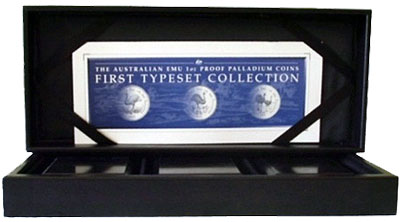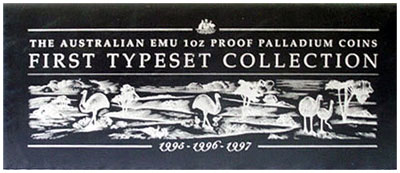 To make the EMU Palladium coins more popular the Perth Mint has issued in the beginning of 1998 a limited set of three prints (graphics) that shows the motives of the EMU issues. The prints has been designed by the designers of the coins (Louise Pinder and Milena Milan). This prints are limited to a maximum of 250 pieces and each set has its own serial number. The issue price was AU$90.